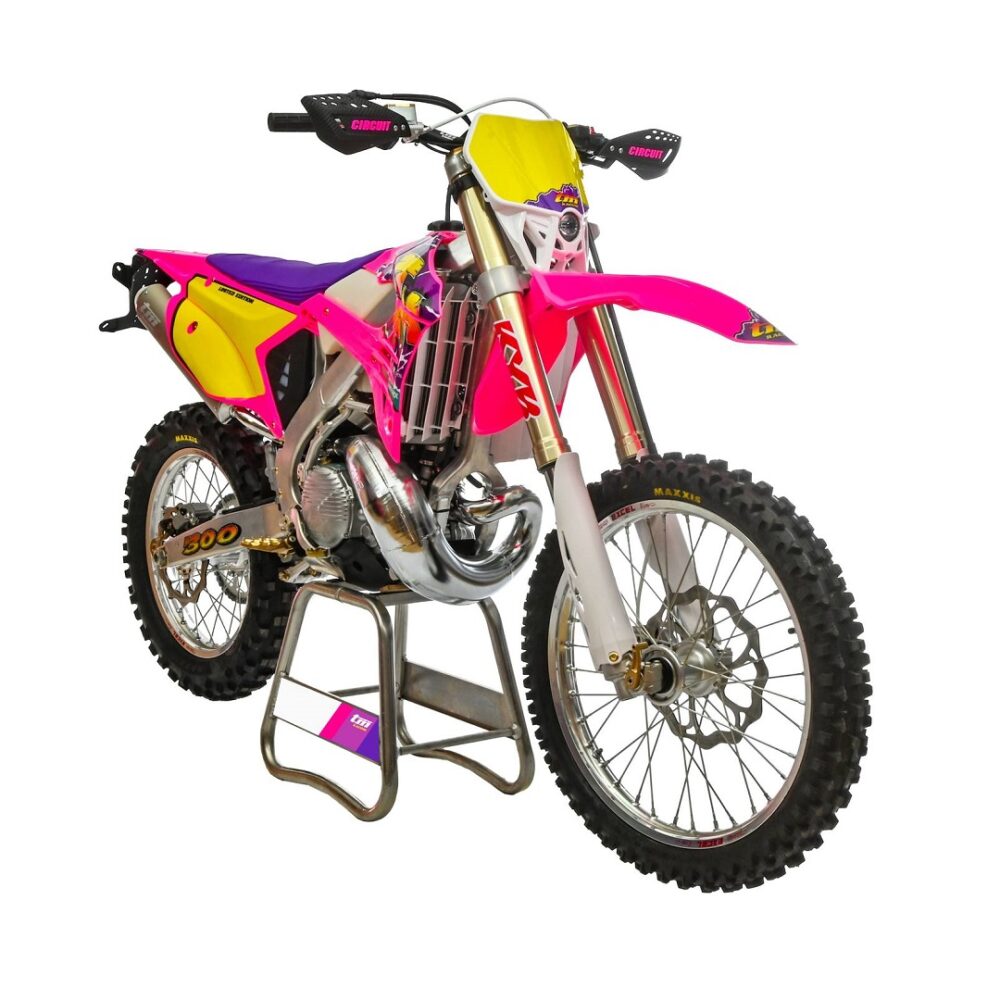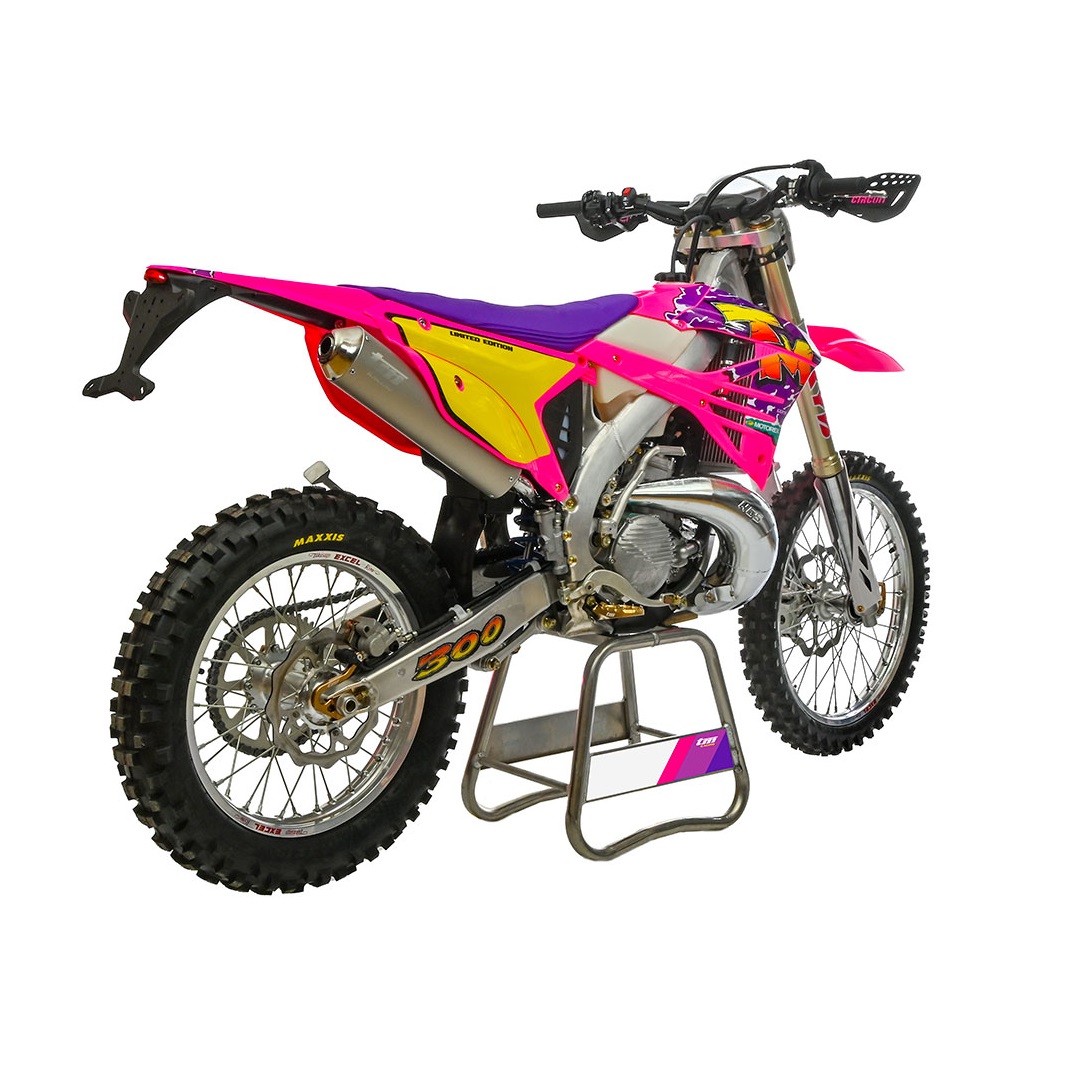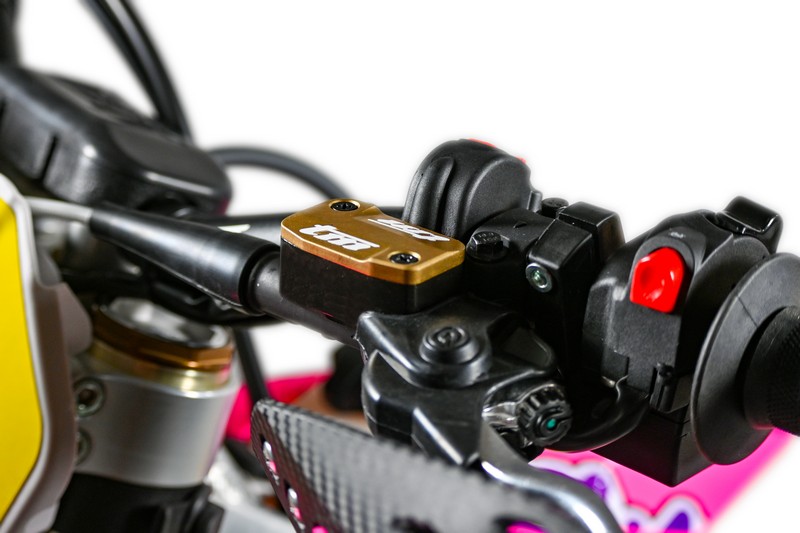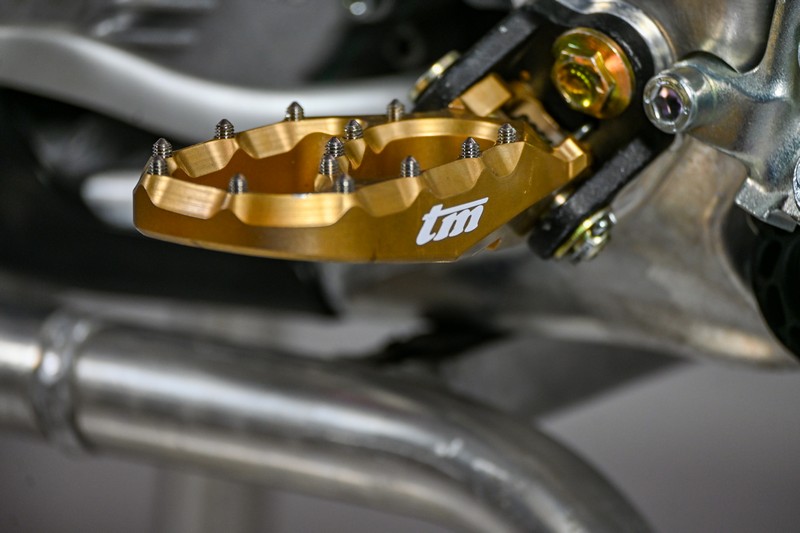 Bringing back a taste of the 1990's, TM Racing will offer their retro "Fuchsia 1993" edition in limited numbers for 2023. Throughout their history, TM has evolved with different designs and colorways for their motorcycle line. From 1993 thru 1997, TM went pink. TM has always striven to be unique, and the new limited edition 2023 models will certainly allow the brand to stand out.
Only 200 limited edition units will be produced worldwide, and they will be available in enduro, motocross, and supermoto models.
Special "Fuchsia 1993" parts kits will also be available for those who would like to update their 2022 models to join the "Fuchsia 1993" club.
Limited Edition Models
Each EN and MX limited edition model will feature the following:
Gold CNC brake and master cylinder covers
Gold CNC foot pegs
Gold CNC rear caliper support bracket
Gold CNC wheel spindle "axle pullers"
Pink "Fuchsia" plastic kit
Purple gripper seat cover
Retro 1993 graphics
Circuit black handle grips
Silver Excel rims
New ignition mapping (2T)
Pink Circuit hand guards
Each SMR and SMX limited edition model will feature the following:
Blue CNC brake and master cylinder covers
Blue CNC foot pegs w/Teflon® protection sliders
Blue CNC chain adjusters w/Teflon® protection sliders
Blue CNC rear wheel nut
Pink "Fuchsia" plastic kit
Purple gripper seat cover
Retro 1993 graphics
Circuit black handle grips
Blue Excel rims
New ignition mapping (2T)
Blue Circuit P4 hand guards
Limited Edition Parts Kits
Each EN and MX limited edition parts kit will feature the following:
Gold CNC brake and master cylinder covers
Gold CNC foot pegs
Gold CNC rear caliper support bracket
Gold CNC wheel spindle "axle pullers"
Pink "Fuchsia" plastic kit
Purple gripper seat cover
Retro 1993 graphics
Circuit black handle grips
Pink Circuit hand guards
Each SMR and SMX limited edition parts kit will feature the following:
Blue CNC brake and master cylinder covers
Blue CNC foot pegs w/Teflon® protection sliders
Blue CNC chain adjusters w/Teflon® protection sliders
Blue CNC rear wheel nut
Pink "Fuchsia" plastic kit
Purple gripper seat cover
Retro 1993 graphics
Circuit black handle grips
Blue Circuit P4 hand guards